Discover Our Scents
All Natura Soy candle scents are 100% natural & plant-based, using pure essential oil blends.
The big secret to our candles smelling so beautifully natural is simply because... they are natural! The result for you are some of the most incredibly subtle, pleasant, and soul-tickling aromas on the market today. Our Best Selling & Seasonal Scents are available in most of our product styles. Aromatherapy & Man Candles available in select candle styles.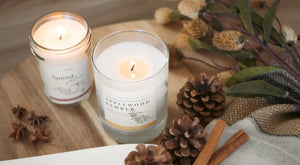 Best Selling Scents
Available in most candle & melt styles - all year round!*
London Fog
Like a cozy cup of this popular drink. Smooth Earl Grey notes from oils of Bergamot blend together with sweet Vanilla.
Sage Berry
Fresh herbaceous notes of
Sage and Rosemary entwine sunny citrus fruits and create a beautiful fragrance to unwind and relax to.
Sandalwood Acacia
A composition of sultry
sandalwood, oud and acacia, ever so softened by warmed vanilla and tonka.
Unscented
Yes, we have it listed here -
unscented in the scents! It doesn't have a smell, but it is a year round best seller from the soybean plant.
Vanilla Fig
The perfect combination
of classic vanilla, orchid
petals & earthy fig.
Satsuma Sugar
Sugared citrus notes of
Grapefruit, Mandarin and
Orange combine with
sweet Vanilla.
Eucalyptus Mint
A refreshing cool blend of
pure Eucalyptus, Rosemary,
Peppermint and Cypress oils.
Lavender + Wild Honey
Sweet Lavender blends with crisp bergamot, middle notes of palmarosa, and dry sage with a woody, tonka bean and sweet vanilla base note.
Paperwhite+ Clover
Crisp green apple and tart lemon blends with an array of lavender, jasmine & heliotrope. All balanced with a wooded, musky base of oakmoss & Sandalwood.

Seasonal Scents
Available in most candle & melt styles - for a limited time only
Peppercorn Apple
Fresh notes of green fig leaves, lemon blossoms, and orange peel intertwine with the richness of peppercorn and clove, creating a harmonious balance. The fragrant journey concludes with the grounding essence of sage and cedarleaf, culminating in a scent that embodies both sophistication and the comforting embrace of autumn
Spiced Honey + Tonka
Top notes of zesty lemon and cardamom awaken your senses, while the heart of anise, cinnamon, clove, and ginger creates an inviting and spicy ambiance. Finally, the base notes of tonka bean, heliotrope, and vanilla wrap you in a cozy embrace, making your surroundings feel like a warm autumn sanctuary.
Vanilla Maple Latte
This all-natural version of a Fall classic doesn't skimp on notes of sticky, sweet Canadian maple. Brought to life with spicy cardamom pods, crushed clove and precious rosewood blended into swirls of balsamic vanilla and coconut milk that mimic the frothy, comforting scent you know and love.
Bohemian Woods
An enchanting blend is a walk in the woods on a crisp autumn day with rich notes of sensual sandalwood and milky laka bark. Whisps of cedarwood, fir needles and fern evoke the cool camphor of the woods and a subtle, yet fragrant base of earthy patchouli and tobacco leaf gives depth to this scent.
Smoked Vanilla Oak
Oils of nutmeg, ginger and vanilla bean round out with gentle notes of incense and smoked moss that cling to fragrant fir needles and alpine woods for the ultimate cabin escape
White Pumpkin
Earthy ginger root, bright lemon peel and pink peppercorn dance with familiar notes of nutmeg and clove. This scent lays on a bed of creamy, comforting white woods and cacao nib resulting in a decadent autumnal favourite that's far from any pumpkin you've had before.